With the 2014 World Cup just over six months away we are continuing to take a look back at some of the most memorable and iconic England shirts to be produced.
The new England away kit was launched in 1982 and was the final shirt made by Admiral before the national team moved to Umbro. The kit made it's first appearance in the 1982 away friendly 4-1 victory over Finland in Helsinki. However, it was retired just nine months later following the 0-0 European Championship qualifier against Greece at Wembley. All in all, the kit was only worn during five matches including two matches in the 1982 World Cup in games against France and West Germany.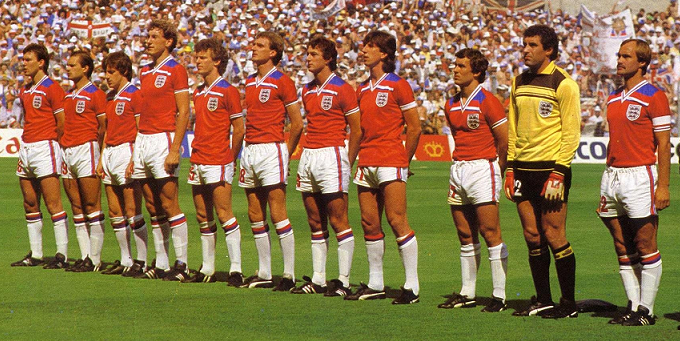 The new England away kit worn mainly throughout 1982 contains a predominately red shirt with blue patches on both shoulders alongside a thin blue and white combined pinstripe that runs across both sides of the shirt beside the collar. Manufacturers Admiral place their small white and black logo in the top right of the shirt whilst the national England crest lies in the top left. Other shirt details include a white V neck collar with red and blue details and a white sleeve trim.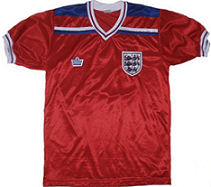 Match Highlights where this shirt was worn include:
England 3-1 France – 1982 World Cup Group Stage
England 0-0 Germany – 1982 World Cup Group Stage Two
---
Posted on January 26, 2014
---