Over the past month hundreds of football fans have voted in and chosen their favourite shirts of 2012 and the final rounded out two popular clubs in Europe with Celtic's 125th Anniversary shirt and Atletico Madrid's away kit. Both shirts feature unique designs with Celtic having a classic look re-introducing their original 1888 white home shirt and Atletico Madrid having an eye catching design with a black and grey hooped shirt with red sleeves and collar. The competition was run on Facebook and Celtic received an impressive 247 likes and Atletico Madrid had 54 likes making Celtic the shirt winner of 2012.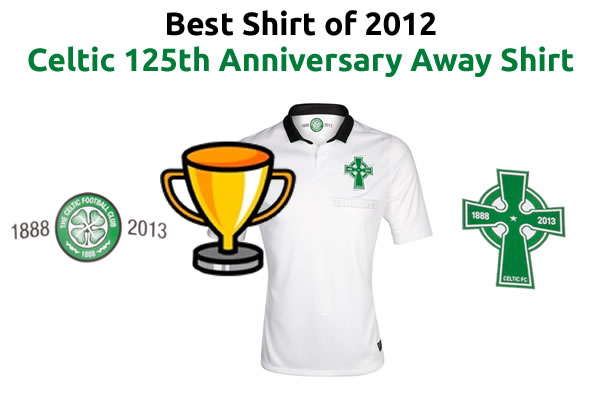 The competition invloved the best 32 shirts from many countries around the world including England, Spain, Italy, Australia, Korea Republic and many more places. The shirts that reach the finals are mostly vibrant designs such as the Arsenal away shirt or the Barcelona home shirt or old designs which re-introduce the classic shirts of past eras such as the Celtic Anniversary Away or the Swansea City Third kit. Celtic's fan base on Facebook is extensive and in each round the Anniversary shirt dominated.
Celtic who recently beat Barcelona in the UEFA Champions League group stage play Juventus in a tricky round of 16 match. The Scottish giants are currently leading in the SPL as they are 11 points clear from second placed Inverness.
---
Posted on January 16, 2013
---