Below is the prospective new logo on this season's shirt, the new sponsor will not be on the Barca kit until the 2013/14 season, with current sponsors Qatar Foundation remaining until then.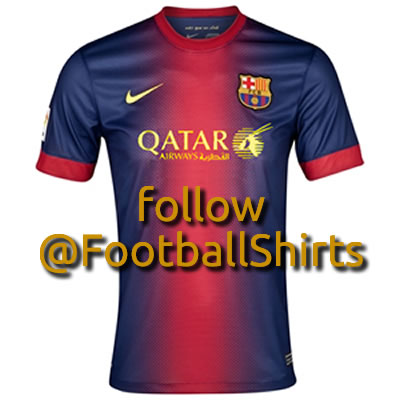 The Qatar Foundation will be replaced by Qatar Airways, as part of the original sponsor agreement with Qatar Sports Investments that allowed for a commercial sponsor logo to replace the charity logo, two years in to the six year 170 million Euro deal.
Barcelona issued a statement reading:
"Barcelona and Qatar Sports Investments announce that they have agreed, under the terms of their contract, that Qatar Airways will appear on the club shirt from the 2013-2014 season as the new main global sponsor. The contract signed with QSI (in 2010) permits the possibility of including a new logo on the shirt from the third season of the agreement."
Sandro Rosell, Barcelona President said
"(Qatar Airways are) an ambitious brand with global aspirations, always committed to achieving the utmost excellence in its field. These are objectives with which Barcelona fully identifies. After sharing two fantastic years with Qatar Foundation, we are delighted to be continuing our relationship by welcoming them as our official Human Development Partner."
This is the first time that a purely commercial brand will be on the Catalan club's football shirt, before commenting please read the article, above is this season's shirt with a mockup of the new sponsor, next season's shirt is being put together by Nike & will now feature this new sponsor.
---
Posted on November 17, 2012
---