Blackburn Rovers have announced a unique partnership for the 2011-12 Premier League campaign, which sees the Prince's Trust Charity name on their shirts this season replacing its last deal with Crown Paints. The deal will see Rovers donate the branding space on their football kit to the national charity, instead of selling it to a new sponsor.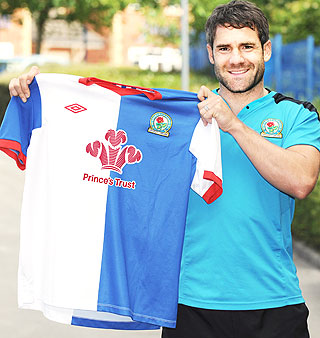 The club, which has a history of running Prince's Trust programmes for disadvantaged young people in the area, has committed to fundraising for the charity throughout the season in addition to the shirt contribution. Rovers decided to reject some commercial sponsorship offers in order to grasp the special partnership opportunity.
Simon Williams, head of commercial and marketing at BRFC, said: "The club has enjoyed a strong and productive relationship with The Prince's Trust since 2005 and this agreement takes that relationship onto another level. The exposure The Prince's Trust will obtain as our shirt partner will greatly increase the level of awareness for the charity and hopefully encourage fundraising for the fantastic work they do to with young people."
Paul Brown, Marketing Director of The Prince's Trust, said:"The Prince's Trust is really pleased to have been selected as Blackburn Rovers Charity of the Year in a move which will build on our considerable experience of working with young people through football. We see this as a brilliant opportunity to reach out, engage and motivate the most disadvantaged young people in the community and help us change even more young lives."
To read more on the deal, click here.
With thanks to Northern Rover & Ben.
---
Posted on August 11, 2011
---