Sports media worldwide are today reporting news that Portuguese superstar Cristiano Ronaldo has his heart set on a sensational return to former club Manchester United. The player signed for Real Madrid from United on the 26th June 2009 for 93.9 million Euro (80 million Pounds), becoming the most expensive player in the history of football. He signed a contract until 2015 which includes a 1 billion Euro minimum fee release clause.
Speculation has surfaced after it has long been reported that the player is unhappy at Real Madrid. Even though not officially confirmed, such unhappiness probably derives from the fact that his chances of winning the Ballon d'Or while playing in the same league as Lionel Messi are extremely slim. He won this prestigious award in 2008 after he won the UEFA Champions League with Manchester United.
With Real Madrid lagging behind arch-rivals Barcelona by 16 points by the 17th matchweek, their chances of Spanish La Liga triumphs are microscopic. Real Madrid have been drawn to face Manchester United in the Last 16 Knockout phase of the 2012/13 UEFA Champions League, where the 5th March will be the first time that Ronaldo plays at Old Trafford since leaving the Red Devils. It is reported that he still has his feelings attached to the club and will be pushing for a move back to Manchester United.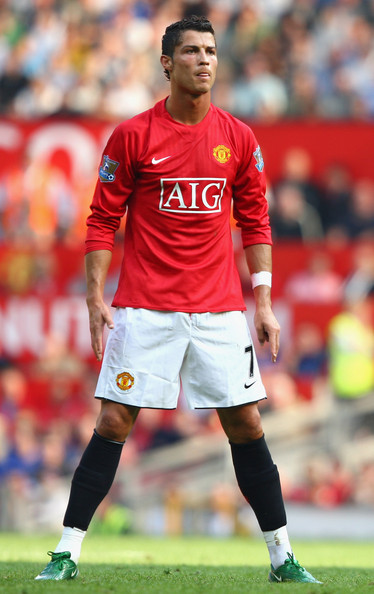 In a report by Ms Gemma Thompson on the official Manchester United website ManUtd.com, quoting a story by Mr David McDonnell from the Daily Mail, it is reported that both Cristiano Ronaldo and his present Real Madrid manager Jose Mourinho will make the move to Old Trafford next summer. Cristiano Ronaldo has rejected Real's offer of a new contract and will reportedly reject all other offer obstinately to force a move back to Old Trafford, possibly in a cut-price deal for Real Madrid to avoid losing him for free in 2015. Above you can see the last home shirt design worn by Cristiano Ronaldo for Manchester United in 2008/09. The impact of the transfer on Manchester United's shirt revenue would be astronomic. It was reported that Real Madrid covered the 80 million Pounds they paid for him through shirt sales in his first season with the club.
What are your views about him wearing the Manchester United red shirt again?
---
Posted on December 28, 2012
---