We review England's brand-new home shirt, manufactured by Nike, for use in their upcoming Euro 2016 campaign.
Both the home and away shirts have already been debuted by England in their international friendlies against the Netherlands and Germany respectively, however the footballing fanatic nation are eagerly awaiting their on-pitch action in France this Summer.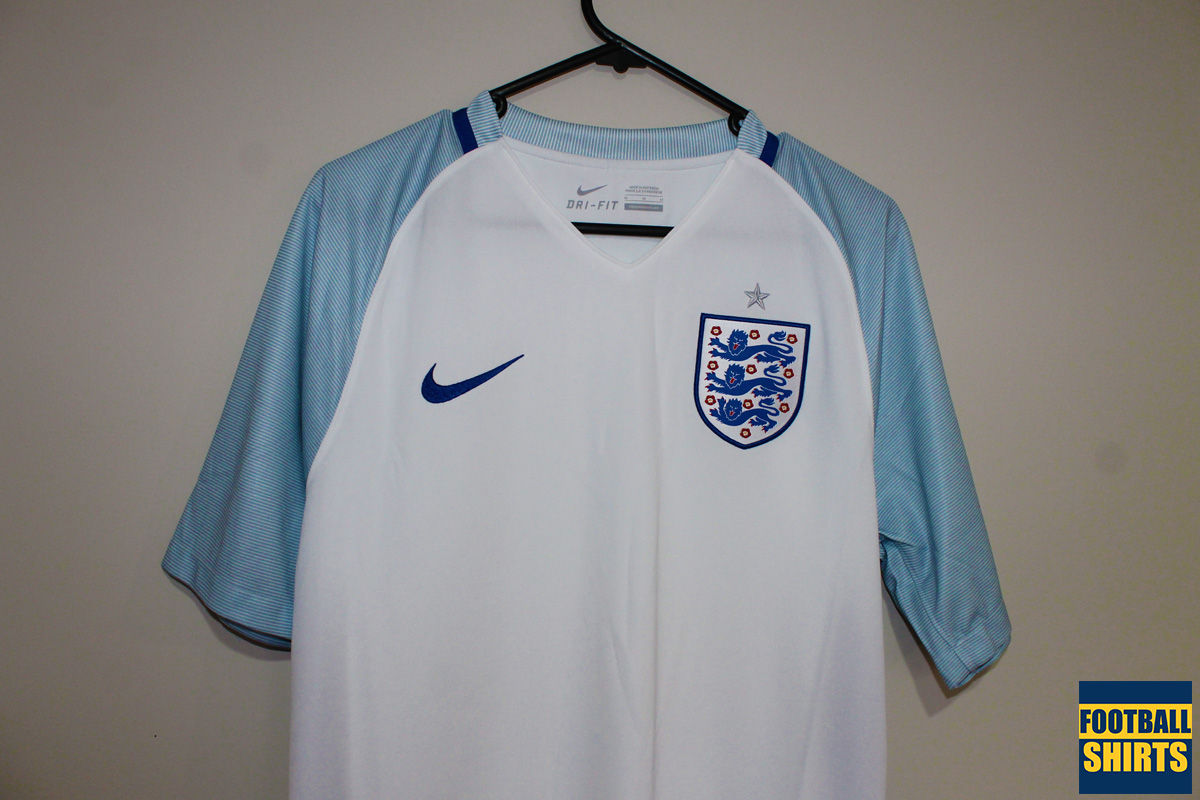 England's latest home shirt remains a reasonably trademark look through a white predominance however incorporates modernistic flair to match the team's latest stars of Ross Barkley, Raheem Sterling, Jamie Vardy, and Tottenham trio including Harry Kane, Dele Alli, and Eric Dier. The fashionable home shirt arguably poses as the most striking example since England's 1998 World Cup edition through its addition of substantial blue trim applications, whilst more recent versions have opted to stay a purists favourite of all white.
Both England's home and away shirts have been composed by Nike's revolutionary Vapor kit template – as also used by France and Portugal – which sees a subtle v-neck collar feature above a Nike Swoosh and team crest, whilst intricately striped sleeves and flank detailing also add classy depth.
Looking at the front and back of the shirt, and both panels remain traditionally designed through an understated yet elegant white base-coat – with the former boldly incorporating a Nike Swoosh and Three Lions crest in royal blue with a single silver star above to denote their 1966 World Cup success. Dividing the front and back panels showcases royal blue flanks with subtle pinstriping of red – which also possesses a stretchy characteristic to enhance fit.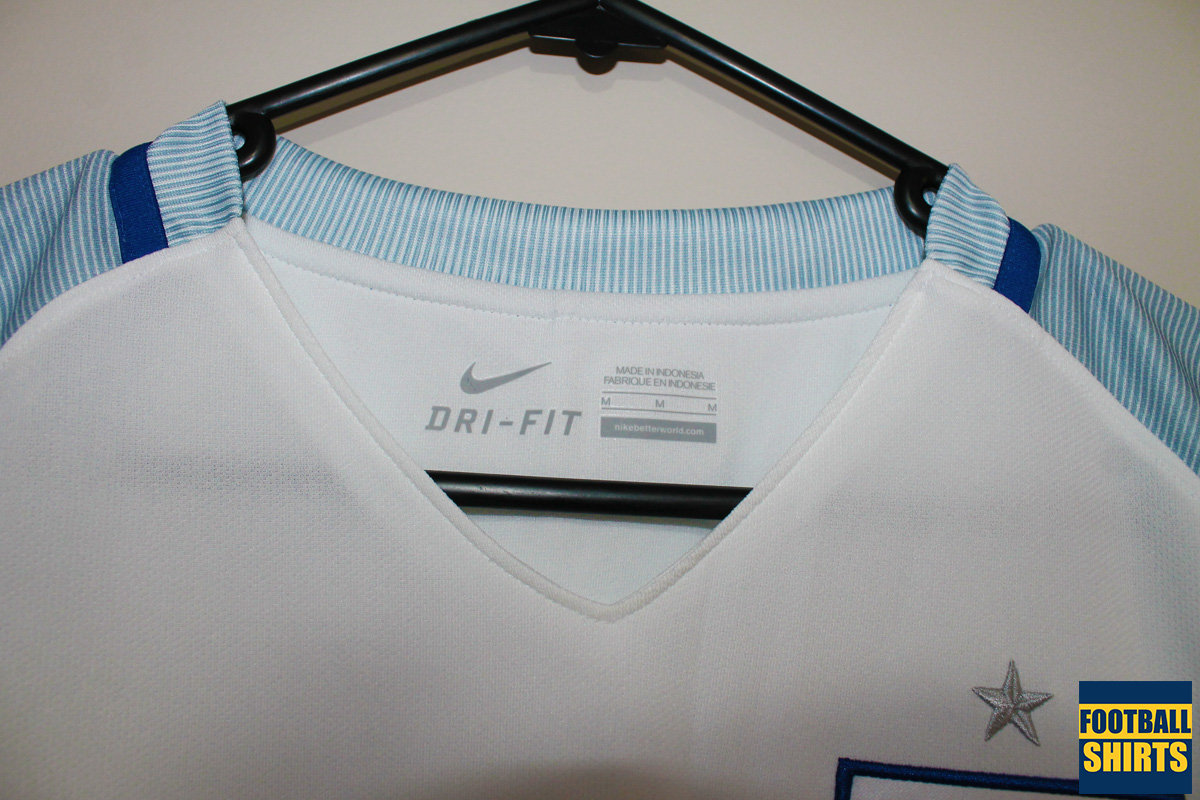 Moving onto the sleeves, shoulders, and collar – and these are the regions that see the England shirt taken to modern levels through an unprecedented effect of intricate hoops created by a two-tone of sky blue and white. The striped visual flows in a uniform fashion from the sleeve cuffs and across the shoulders before being broken by royal blue trim to create collar accents. The back of the collar also features England lettering in white for a patriotic touch. Finishing touches of DRI-FIT lettering and Nike's Authentic label are embroidered to the hem in silver stitching.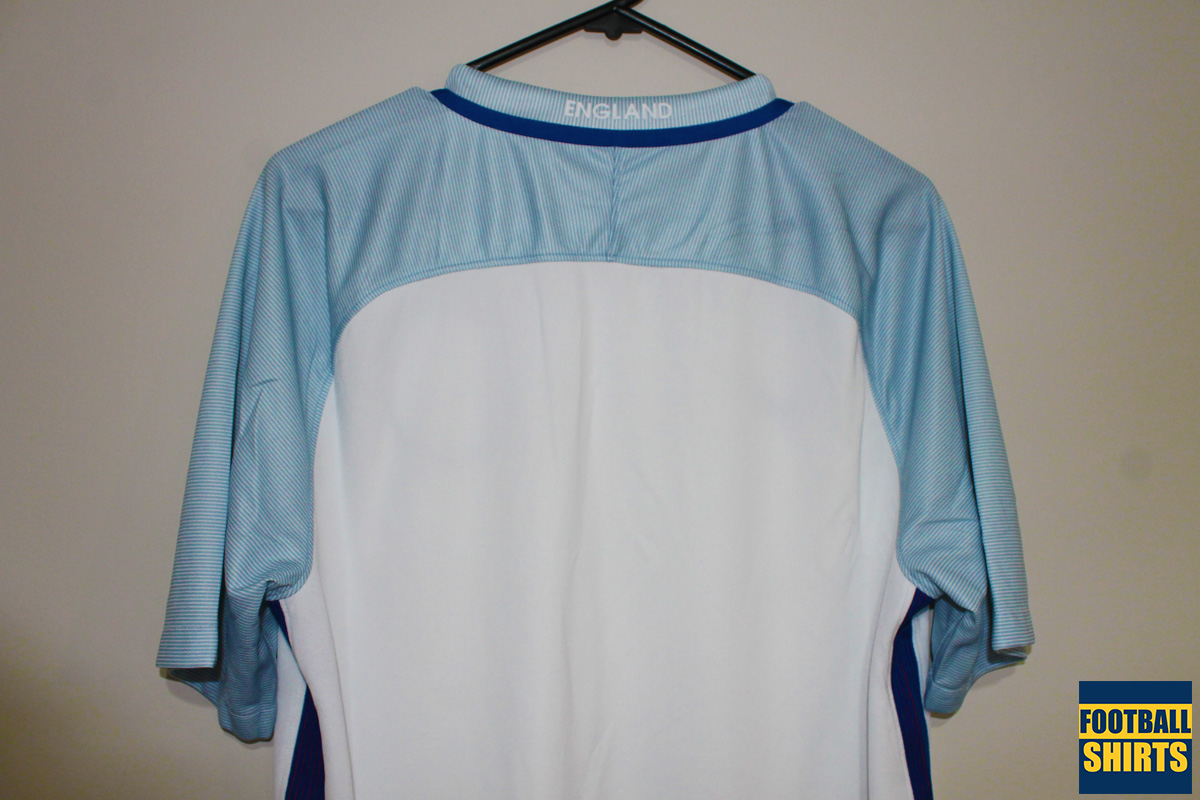 This version of the England away shirt is the Match edition of which is aimed at supporters to wear in the stadium and replicates the player's Vapor Match edition however lacks Nike's innovative AeroSwift technology which wicks away sweat to stay dryer and more lightweight by 20% and 25% respectively. Further cosmetic differences sees the words 'Three' and 'Lions' left absent on opposing sleeve cuffs of the fan's Match edition compared to what the players will patriotically adorn in France.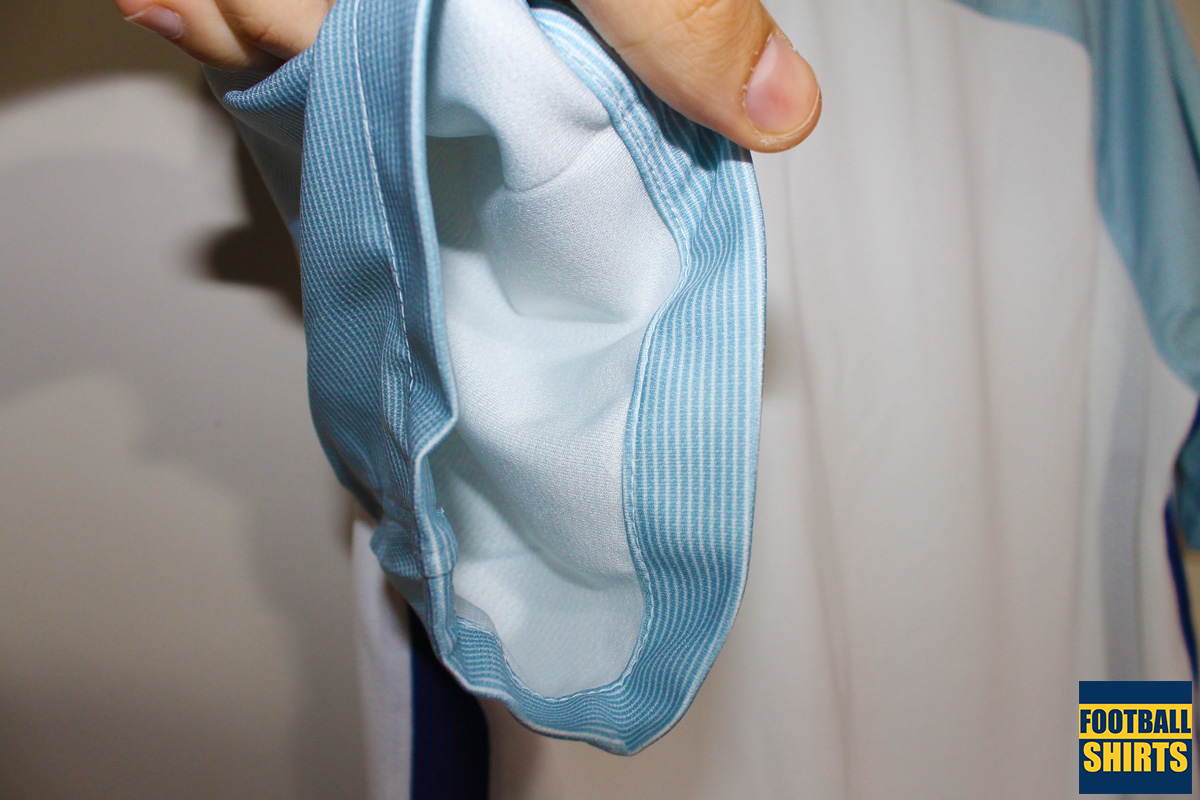 In terms of sizing the shirt fits true to size – the length in the body and sleeves is spot-on and it also features a slightly compressive fit – I'm wearing my usual size Medium and its the ideal size and fit. Just not that if you're interested in the Vapor Match edition, the player's version features an even greater compressive fit so if you're in-between sizes it may prove beneficial to go with the larger of the two.
---
---