Under auction now is the exact shirt worn by Sergio Aguero when he won Manchester City its first league title in the Premier League era via the iconic last-minute goal against QPR. Still bearing all the mud and champagne stains of the consequent celebration, the jersey freshly carries the team and individual football glories of the moment, giving it a significant monetary value that could reach around £46,000, according to Graham Budd Auctions (GBA).
Proceeds would be split between seller Neville Evans and charity organisations Testicular Cancer UK and the Stroke Association. Considering the inclusion of the charities and Evans' intention to support someone under medication, the auction house has removed the commission charges.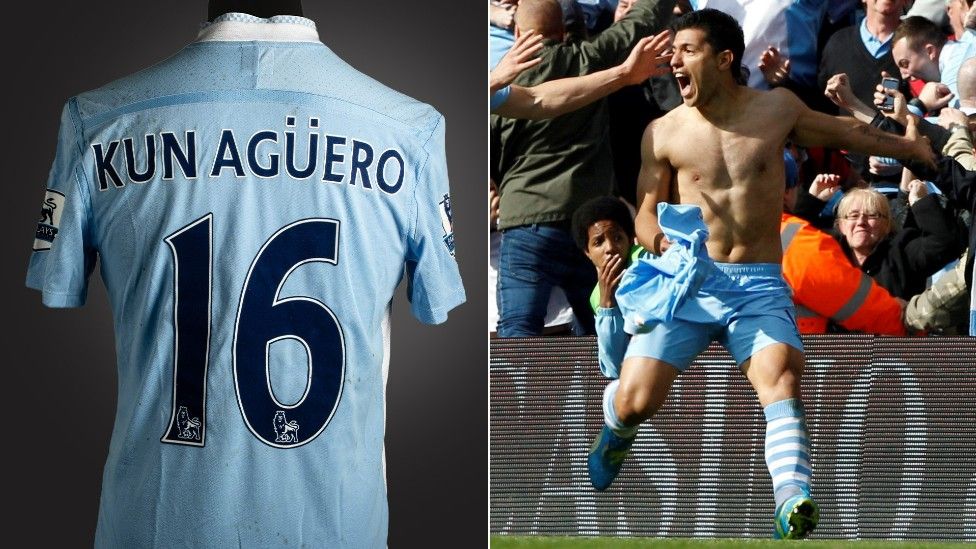 The Aguero goal, commentarised memorably by both Martin Tyler and Peter Drury in highlight reels, etched itself deeply into the club's folklore because of the stakes involved. Fourty-four years of waiting for another league title could have agonisingly continued for a few more if not for the striker's miraculous intervention. Teammate Mario Balotelli was right to take up the shirt as a souvenir. But funny enough, in true Balotellian fashion, the Italian star left his kit bag and the jersey in the stadium. Balotelli never made a claim even if the items were sent to the club's training ground, and so eventually they got gifted to the National Football Shirt Collection of Neville Evans.
Mr. Evans never intended to sell the shirt, but felt the need to do so to support the collections' curator, who is undergoing critical medical care. Aguero's jersey will go under the hammer on 24 May, weeks after Maradona's 'Hand of God' shirt sold for a record £7.1 m.
Source: https://www.bbc.com/news/uk-england-manchester-61491557
Moved to New Zealand in 2015, Matt played within England's semi-professional Non-League for several years, most notably for Eastbourne and Lancing. While studying at the University of Brighton, Matt also captained and coached the Men's First Team who played in the Premier League of University football.