New Balance debuts in class – we review Premier League side Liverpool's home shirt for the 2015-16 season.
https://www.youtube.com/watch?v=T0gqoFUVnpY
The brand new Liverpool home shirt is supplied by New Balance who took over from Warrior Sports from the 2015-16 season onwards. Inspired by the club's successful past, the new home shirt for Liverpool uses a unique chequered/lined theme on the front panel while touches of sun gold are present on the collar and sleeve cuffs.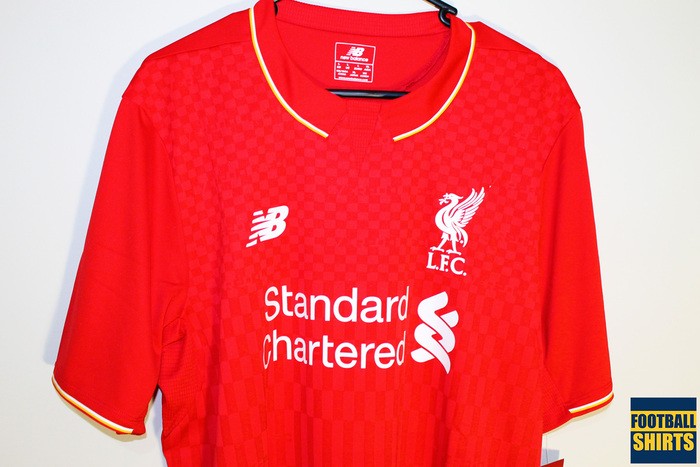 The chequered design is absent on the sleeve and back panels of the shirt. The chequered design is inspired by the white mosaic formed when the fans in the Kop hoist their Liverpool flags and scarves in matchday. In addition, the club's name "Liverpool F.C." is printed throughout the front panel of the shirt.
Both the New Balance logo and Liverbird crest have been applied using a Prist Weld technique and feature a slightly raised and textured feel while the Standard Chartered sponsor is simply stuck on. A re-designed crew-neck collar is featured on the shirt with white and gold piping and a classy chequered pattern at the base and back of the collar.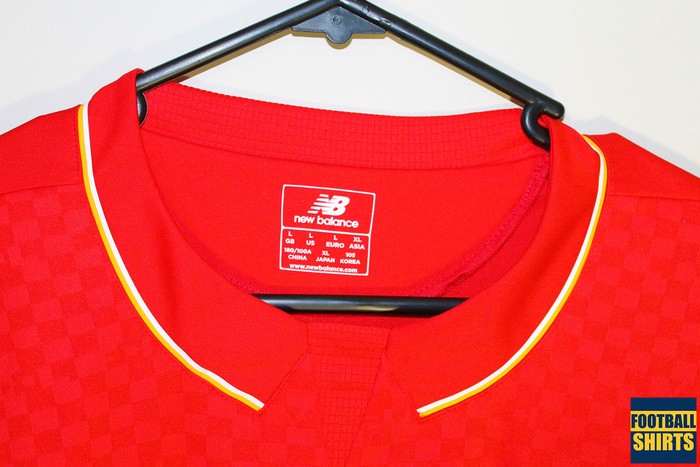 That same chequered pattern material is used under the arms of the shirt as well. "96" emblem is stitched on to the upper back of the shirt just under the collar to commemorate the 96 who lost their lives during the tragic Hillsborough disaster back in 1989.
Following tradition, the new home kit for Liverpool is completed with red shorts and socks with gold and white trim. The New Balance and Standard Chartered logos and Liverbird crest are coloured white to complete the look.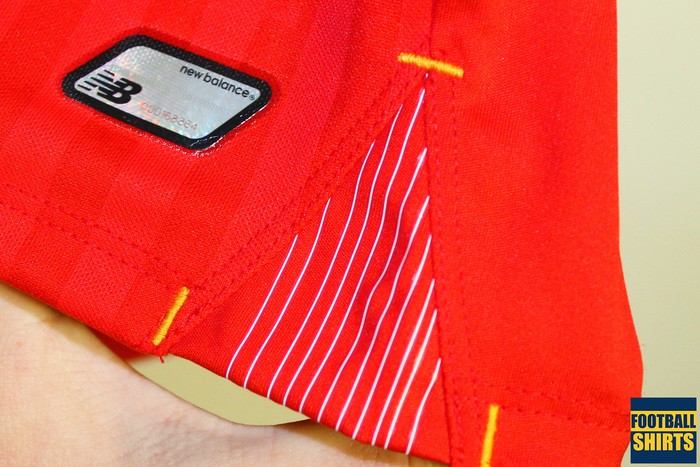 Comparing this shirt to the previous 2014-15 by Warrior Sports, it features several similarities including the rounded crew-neck collar and white trim applications.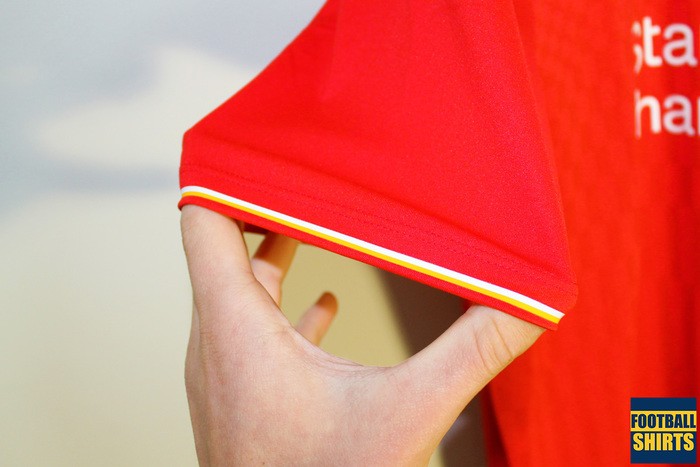 The shirt is made of 100% polyester and uses Moisture Wicking Fabric which release moisture away from the body. Due to the change of manufacturer, sizing may vary from previous seasons. This shirt is a size large and fits me a little big so I recommend going true to size with this shirt. Refer to the size guides for more info.
---
Posted on October 21, 2015
---