Ligue 1 champions PSG have officially revealed their new home kit for the upcoming 2015-16 season.
Again supplied by Nike, the new home kit for PSG emphasises the team's growing status in both French and European football featuring a modern and stylish home shirt. The new home shirt for PSG uses a sleek design using the club's trademark navy blue colour on the body while a dark blue is used on the collar and sleeves while the iconic red stripe is featured down the centre with a white border. The home kit is designed to reflect the club's core values of grandeur, respect and passion.
The stripe has been widened and runs the full length of the shirt from the rounded crew-neck collar to the base of the shirt. The home kit is completed with dark blue shorts the same dark blue seen on the shoulders and sleeves and navy blue socks the same navy blue seen on the body panel of the shirt.
Inside the neck of the shirt the statement "ICI C'EST PARIS" ("Here it's Paris") is used. The shirt is again sponsored by Fly Emirates who have their sponsor intersecting the red central stripe while the white Niki logo and PSG crest are both embroidered on to the shirt.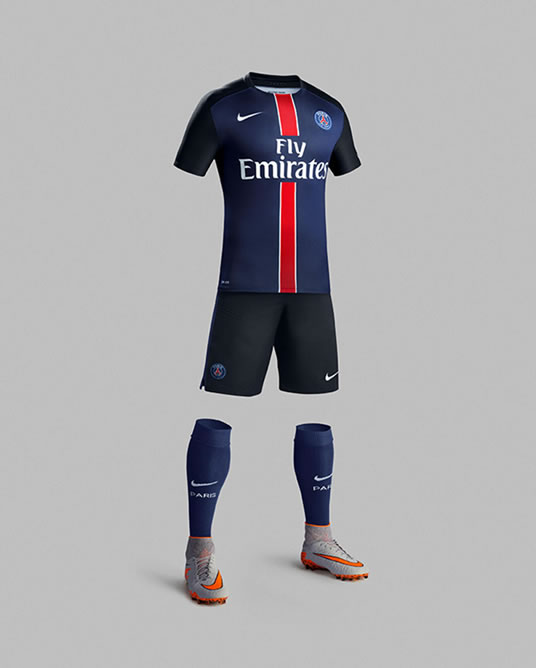 ---
---