The Welsh Rugby Union World Cup shirts for 2011 are manufactured by Under Armour and keep with the traditional red but feature white under the arms. They have a T shirt style collar in white and carry the Under Armour logo like a bib under the collar. The right chest carries an embroidered IRB Rugby World Cup 2011 logo and the Welsh crest logo is on the left.
Wales are currently the only international rugby team to have their kit made by Under Armour, the American company will start making Premier League football strips next season, when they take over making Tottenham's shirts.
The jersey is made of UA moisture wicking fabric and also has strategically ventilated areas to help keep the players temperature at the ideal for playing. As with most modern strips, they are figure hugging and have special panels to aid ball control. They have been tested by the players to ensure they are almost impossible to rip.
Welsh Change Jersey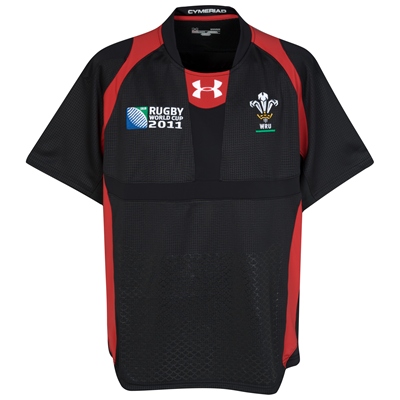 Wales have a chequered history in the World Cup, coming third in the first one in 1987, last time at France 2007, it was a disaster as they failed to progress from their pool stage having lost to Australia they ended the campaign with a loss to Fiji and a trip home. This saw Warren Gatland take over and expectations are higher for 2011, though they are in Pool 'D' along with their nemesis Fiji, South Africa, Samoa and Namibia, a very tough pool.
They play their first game on the 11th September in Wellington's West Pack Stadium against South Africa and this will set the trend for their cup. They will most likely manage to progress as second in the pool, which would mean a likely game against Australia in the quarters and that will probably be as far as they will go.
---
Posted on August 29, 2011
---